Today I am sharing all the details of Timmy's Dinosaur Themed Birthday Party. It was so fun to plan and he had such a special day. I'm thankful to our friends and family who came and loved on him for his birthday. Check out this video of his Dinosaur Themed Party!
This is Charlie's year for a big birthday party since he is turning one this summer. Timmy's birthday rolled around and I thought it would be fun to have a few of his favorite little friends over to play and celebrate with him. He really wanted a Dinosaur birthday cake which turned this into a themed playdate. Well I couldn't stop there…I found myself on Oriental Trading with a cart full of dinosaur themed party stuff. Then I started talking menu ideas with my mom and she loves a themed party even more than me, one thing led to another, and we ended up with a full blown birthday party. The guest list remained small and we had a great time celebrating!
I ordered all the party supplies from Oriental Trading. They have tons of cute stuff for a dinosaur themed party. My only complaint about Oriental Trading is they run minimal promotions. I'm on the email list and I've been watching their email promotions over the last few months. The best you can hope for is free shipping and once in a blue moon there is a $10 off coupon.
The menu consisted of pulled pork sandwiches, buffalo chicken dip, and dinosaur chicken nuggets for the carnivores. For the herbivores we had fruit, veggies, dinosaur fruit snacks, and dinosaur footprint cookies. My mom made the watermelon and it turned out great. She used marshmallows and olives for the eyes. She also made the cake! She was this creative long before Pinterest ever existed.
I made the dinosaur footprint cookies. On pinterest all the posts I saw said to put the dinosaur footprint in the raw cookie dough and then simply bake them. That did not work for me. When the dough was rising as they baked the footprint disappeared. I ended up putting the footprint in the cookie as soon as they came out of the oven. That worked much better. I used an actual dinosaur toy to make the footprint and then filled it in using a paintbrush and green food coloring.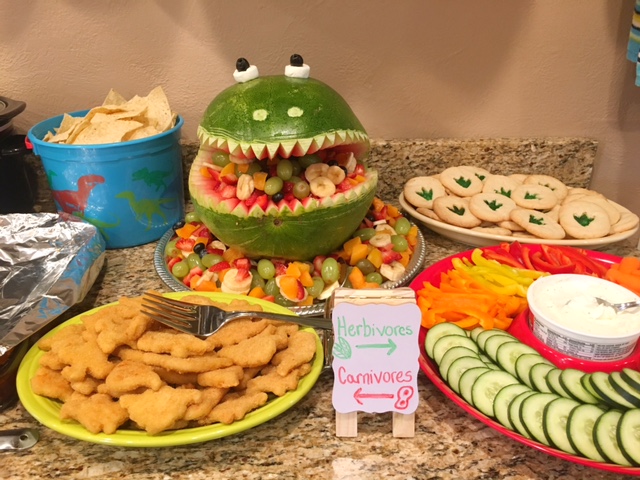 I found a recipe on Pinterest for Raptor Juice that called for sprite, pineapple juice, lemonade, and a lemon-lime kool aid packet. I went to three stores looking for a lemon-lime kool aid packet and I couldn't find it anywhere. I substituted the kool aid packet with a pack of lime jello. As expected, this punch was tart which I did not like but Timmy and Jordan loved it. I loved the color of this punch and it looked cute on the drink bar. I warned all of the parents that there was an entire pack of jello in it. #sugaroverload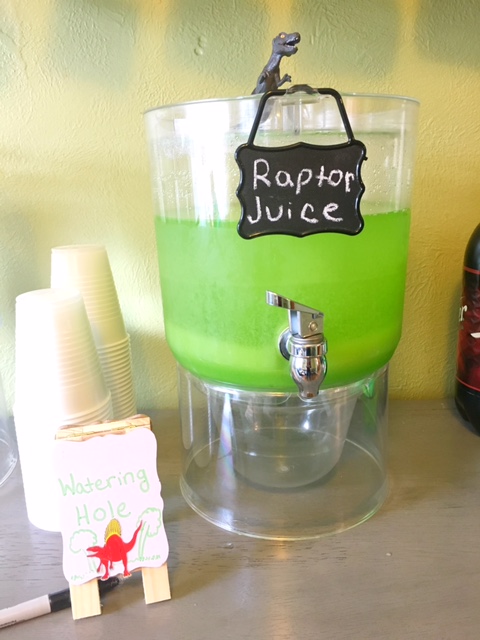 These strawberries were quick to make and cute for the kids. They made me giggle because I'm not sure they look like dinosaurs?! I'm not really sure what they look like?! Timmy asked me what kind of dinosaur they were…we decided on a triceratops?? Haha.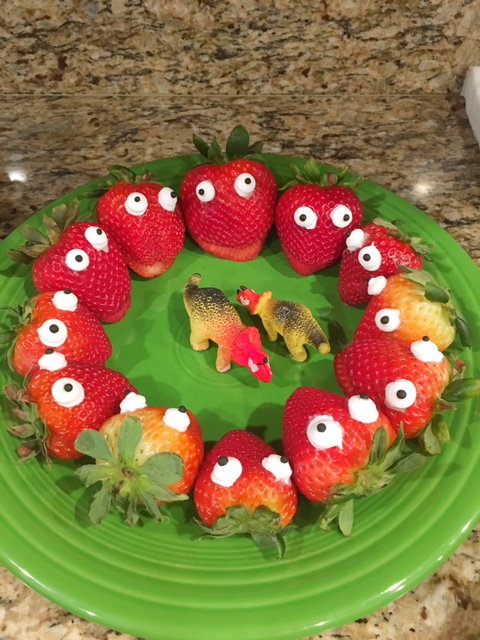 I ordered a box of dinosaur eggs from Oriental Trading to have an egg hunt for the kids. Jordan and I set up the inflatable dinosaurs all around the back area of our basement and hid eggs for the kids to find. We had the bubble machine going and the kids loved it. We let them go wild down there for a little while and burn off some energy. The large red t-rex was a favorite!
Side note: if you have little ones and you don't have a bubble machine, you need to get one! They are the best thing ever. I can't believe I ever stood there with the bubble wand, becoming light headed, as I failed at blowing bubbles for the boys. It makes everything more fun. I get it out all the time. I recommend this one from amazon. I got a huge tub of bubbles from Five Below for $3.