Today I'm sharing the details of a baby sprinkle I threw for my college roomie!
Ashley had baby girl, Greta, about 4 weeks ago. At the end of August we celebrated by sprinkling her with love (and baby girl supplies). She has the most beautiful color scheme for the nursery. Lots of pinks and corals with mint green and gold accents, love it! I followed the same color scheme for the sprinkle. It was so pretty that I wanted to leave the party decor up in our house all year round. Walking into the room with those bright beautiful colors made me happy! I didn't leave it up permanently but I did leave it up for a couple of weeks. 🙂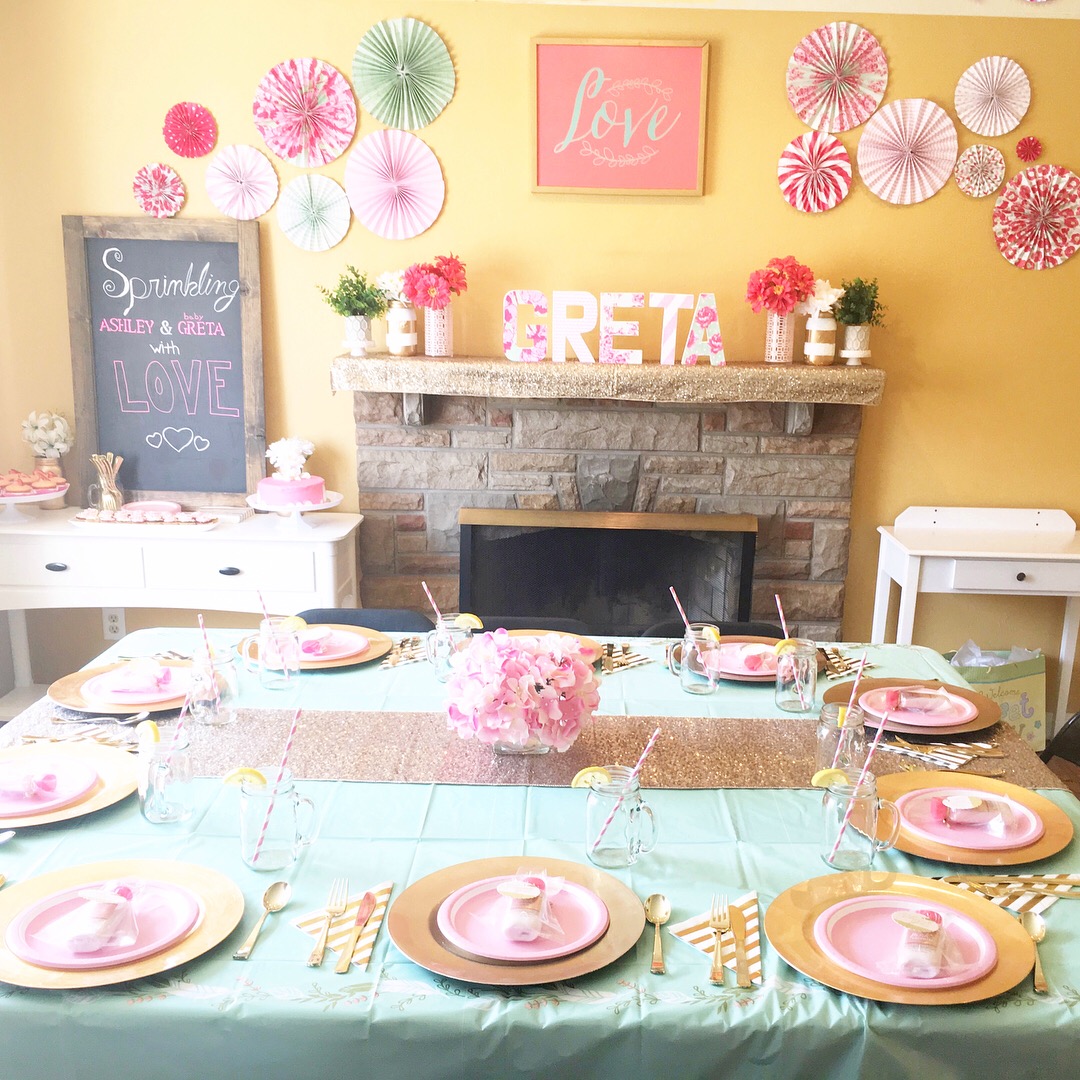 Prepping for baby Greta's sprinkle was my nap time therapy for several weeks. My first project was the paper wheels on the wall. These cost me nothing to make because I already had the supplies (paper and hot glue gun). These are great party decor because they are inexpensive, beautiful, festive, and can fill large spaces! I saved some for future use (maybe a baby girl nursery one day?!) and used some of them in our guest room over the bed.
We had 10 ladies at the sprinkle. Planning a party for such a small crowd was so fun! I was able to pay more attention to details, and make it feel more like a family dinner, and less like a huge buffet. And it didn't break the bank when I wanted to buy mason jars for the drinks or gold (plastic) silverware for the place settings.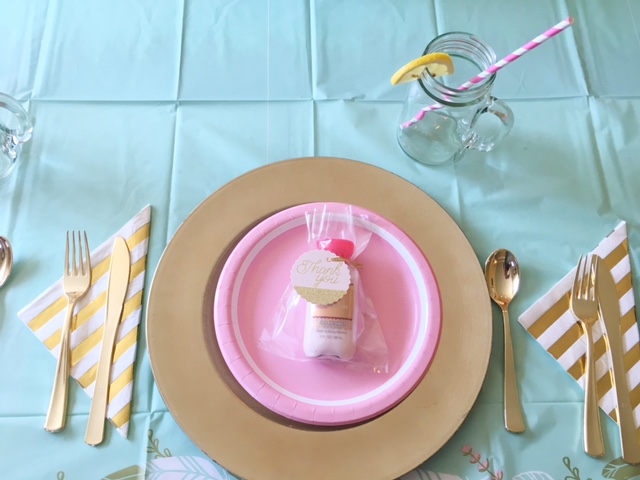 Speaking of place settings, check these out. Isn't it so pretty?! Uh! I really didn't want to eat at this table. I just wanted to look at it and take pictures of all the pretty things. My sister-in-law and I bought the gold chargers and the sparkly table runners on OfferUp from someone's wedding decor. We used them for her baby shower and now for Ashley's sprinkle.
Target had a gold section of party decor, including plastic silverware that is gold! The napkins came from there too. I happened to walk into Bath & Body Works during their semi-annual sale and got the hand lotion favors for $1.25 each!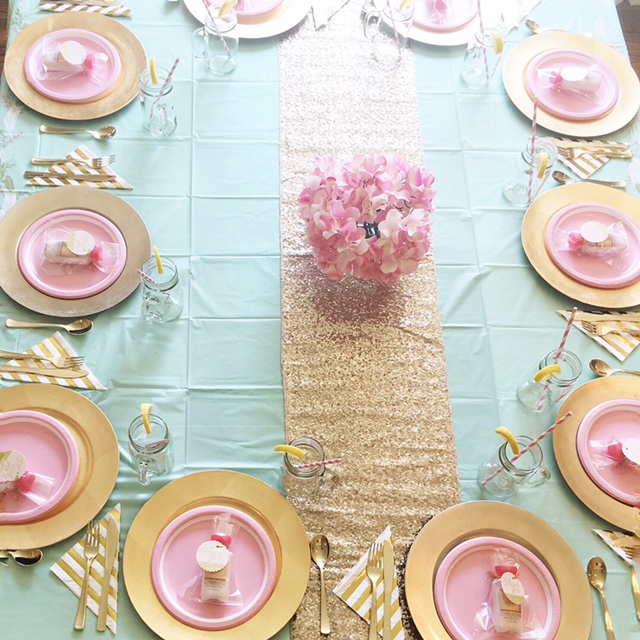 If you follow my blog or my Facebook page you know that I am always making nursery letters for my friends! So here are Greta's! If you want to know how to make them you can see the step by step instructions here. OR if you want me to make them for you just hit me up! I enjoy blessing other Mommas with this personalized detail for their baby's nursery. I have two more I'm doing over the next few weeks. I'll share the finished products on social media!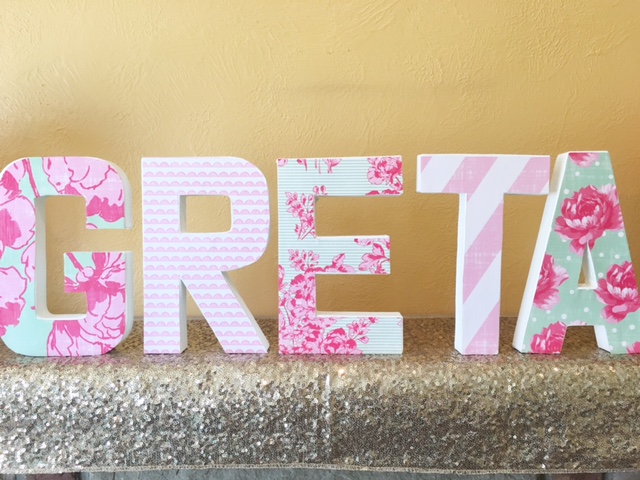 I have a confession to make…when I plan a party I spend almost all of my effort on decorations and dessert because that's what I like most…decorations and dessert. The menu is usually a major after thought. I kept joking with Jordan that I was so distracted by all the shiny decorations that I was going to forget to put out food.
The dessert table had strawberry shortcake cupcakes, brownie bites with icing, and a layered white cake. Bare with me on my chalkboard handwriting (haha), it's not my forte but I've been improving a bit. The strawberry shortcake cupcakes were amazing…truly amazing! My friend Karissa made them for the party, she is so talented. I couldn't figure out how she got them to look so perfect and taste delicious. I made the brownie bites. They looked really cute but were kind of hard to get out of the wrapper, so….they were more of a decoration. The cake was from the Oakmont Bakery…need I say more? You know it was delicious.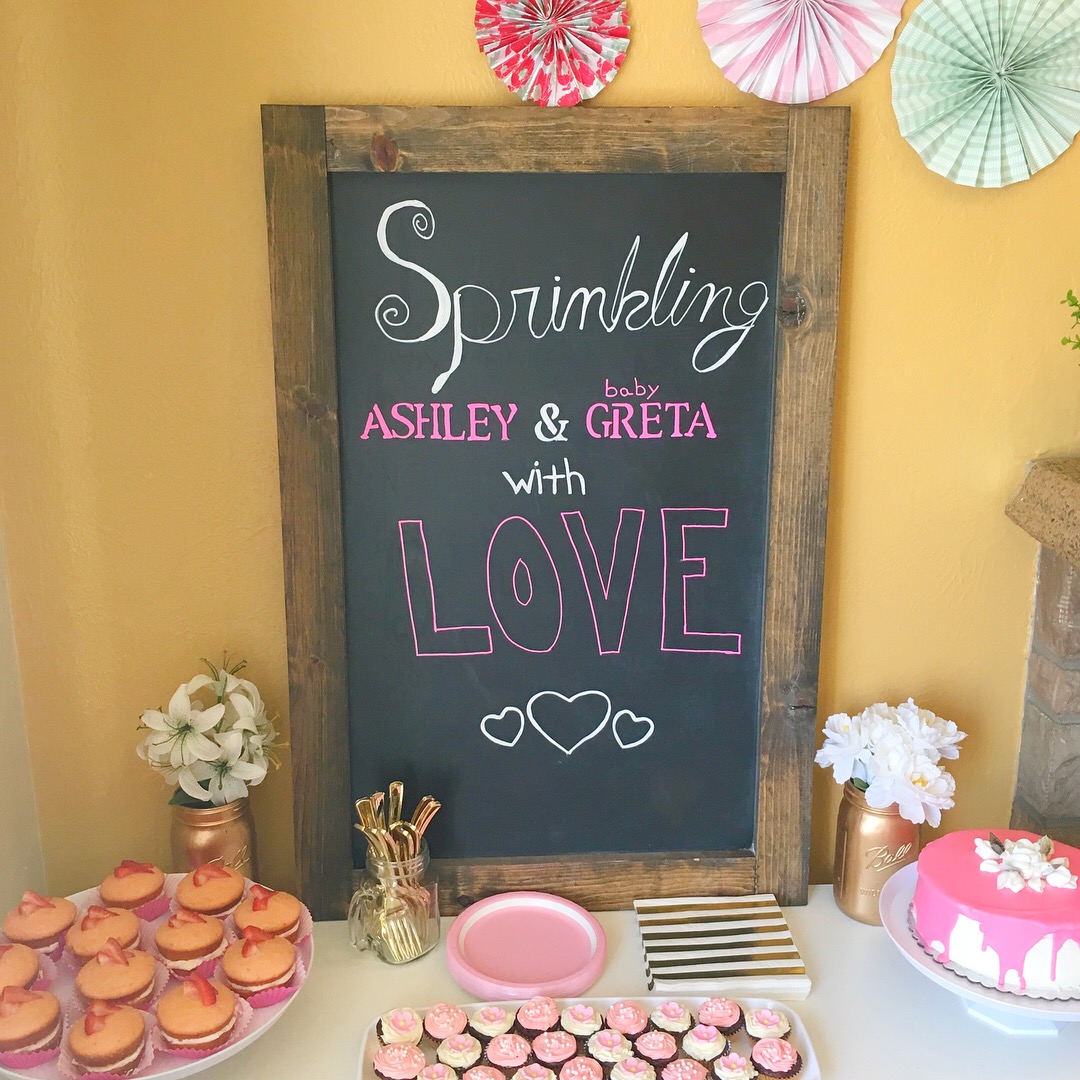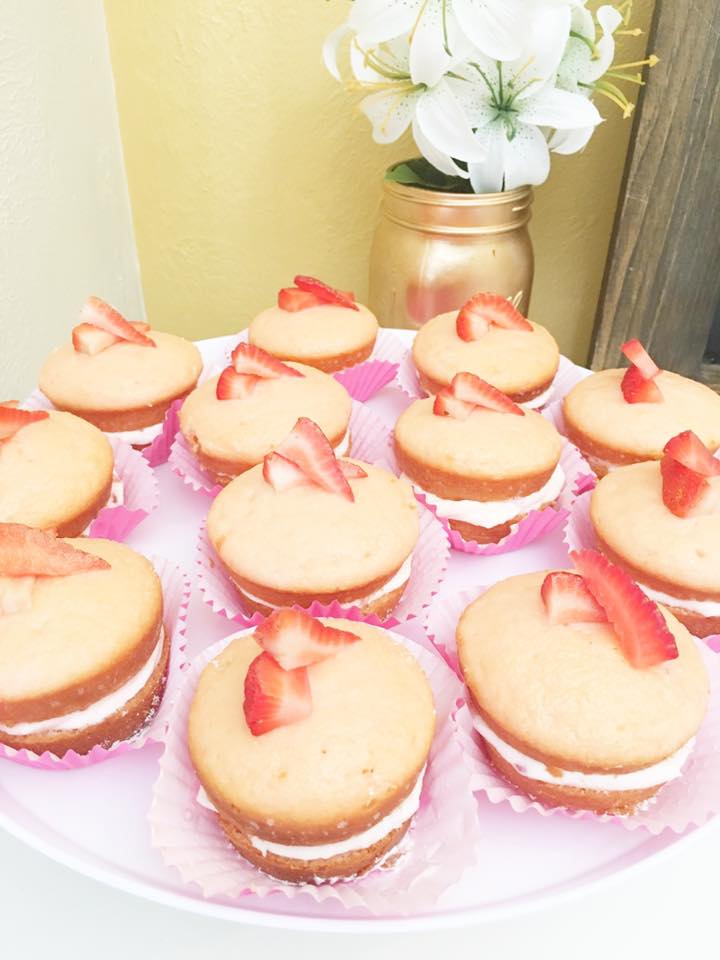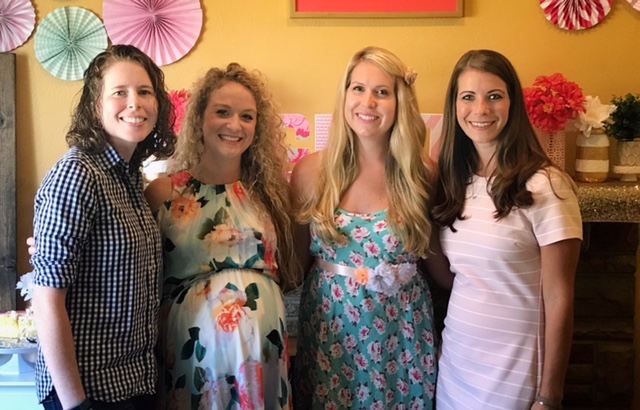 These girls are my original crew. My first group of true friends. We go way back, about 15 years to be exact. It is crazy to even type that. Mo (on the far left) was my freshman roommate at Duquesne University. We were randomly paired and have stuck together since! We added the two beautiful blondes (Ashley & Holly) to our crew a few years later. We all ended up living together for 2 years in apartment #1217. And now we will forever refers to ourselves as, "1217". We have each gone through many seasons of life since we first met in college, and I am thankful that through it all our friendships have lasted.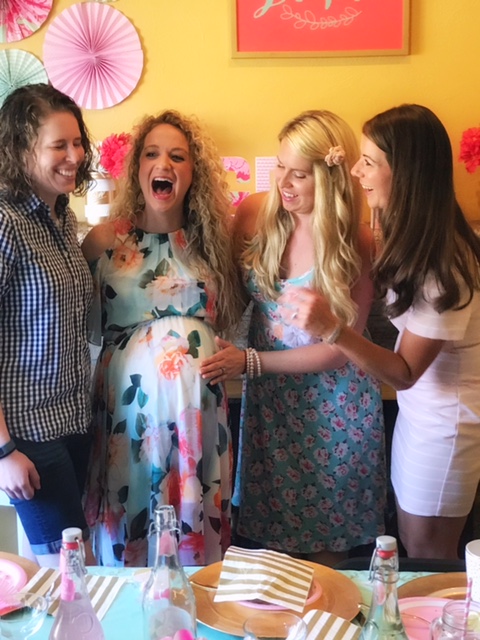 Jordan and I often chat about how special this crew of four is because honestly, we couldn't be more different. But we complement each other and provide each other with fresh perspectives on life. We understand each other and leave room for us all to be uniquely us and be loved for it. No matter how different we all might be, we choose to support and love each other and that's what has made this last for 15 years. <3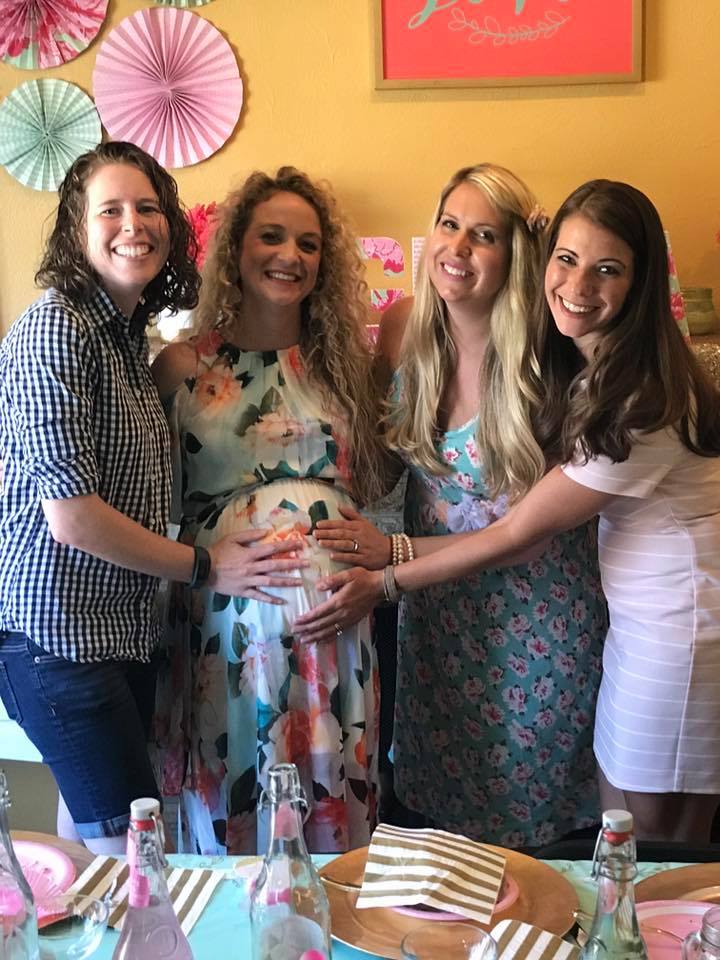 By the way, my dress is from Rent the Runway. I am a big fan of using them for all special occasions. You can read more about why I love Rent the Runway here. If you are interested in using them for an upcoming event please contact me. I can send you links for a percentage off or $30 off!
It was such a special day. I am thankful to Ashley for allowing me the honor of hosting this special event and to my husband (and friend Nick) for moving all of the furniture out of our front room so I could convert it to a party room!