This past fall my husband and I joined a bible study based on the book Kingdom Kids by Tony Evans. At the time I had a 2 year old and a new born. I went into it assuming we were ahead of the game and everything we learned would be good to store away for the future. I assumed none of it would apply to us at this stage because our kids are too young to learn about Christianity. I was wrong. I had two major realizations during that bible study that stuck with me.
1. I must be intentional about handing down my faith to my kids. 
I was under the misconception that because my husband and I are Christians my children would be Christians too. This bible study helped me understand the importance of taking time to teach our children about God, teach them scripture, tell them stories of what God has done in our lives, and openly share our daily walk with them.
It is important for our kids to see us living out our faith and serving God. But more importantly, they need to understand WHY we are living for Christ. I assumed that somehow they would automatically "get it" by observing our lives. I now realize that is naive and unrealistic. As parents, we have a responsibility to be intentional in filling our children's hearts and minds with God's truth.
I have hidden your word in my heart that I might not sin against you. Psalm 119:11
2. It is NOT too soon to teach my kids about God. 
I thought I would teach my kids about Jesus and scripture later in life when they could fully understand it. We said prayers at bedtime and I thought that was enough for now. During the study I was convicted and realized it is not too soon!
If he can recite movie lines then he can recite scripture!
If he can learn kids songs then he can learn children's bible songs!
If he loves to read books then we can find an age appropriate devotional!
If he can adopt actions and attitudes of tv characters then he can learn the actions and attitudes of people in the bible!
It is my responsibility to teach my kids God's truth with age appropriate content they can enjoy and understand. It is not enough to rely on the church program they attend once a week. That will reinforce what is being taught by you at home but it will not get the job done.
I have to be intentional about passing on my faith and it is not too soon to start! 
The last several months I've been going through various books, cd's, and videos to find tools for teaching a 3 year old scripture. I am happy with what we are using right now and it has been really effective for teaching Timmy. Hopefully you will find this helpful and easy to implement with your little ones too!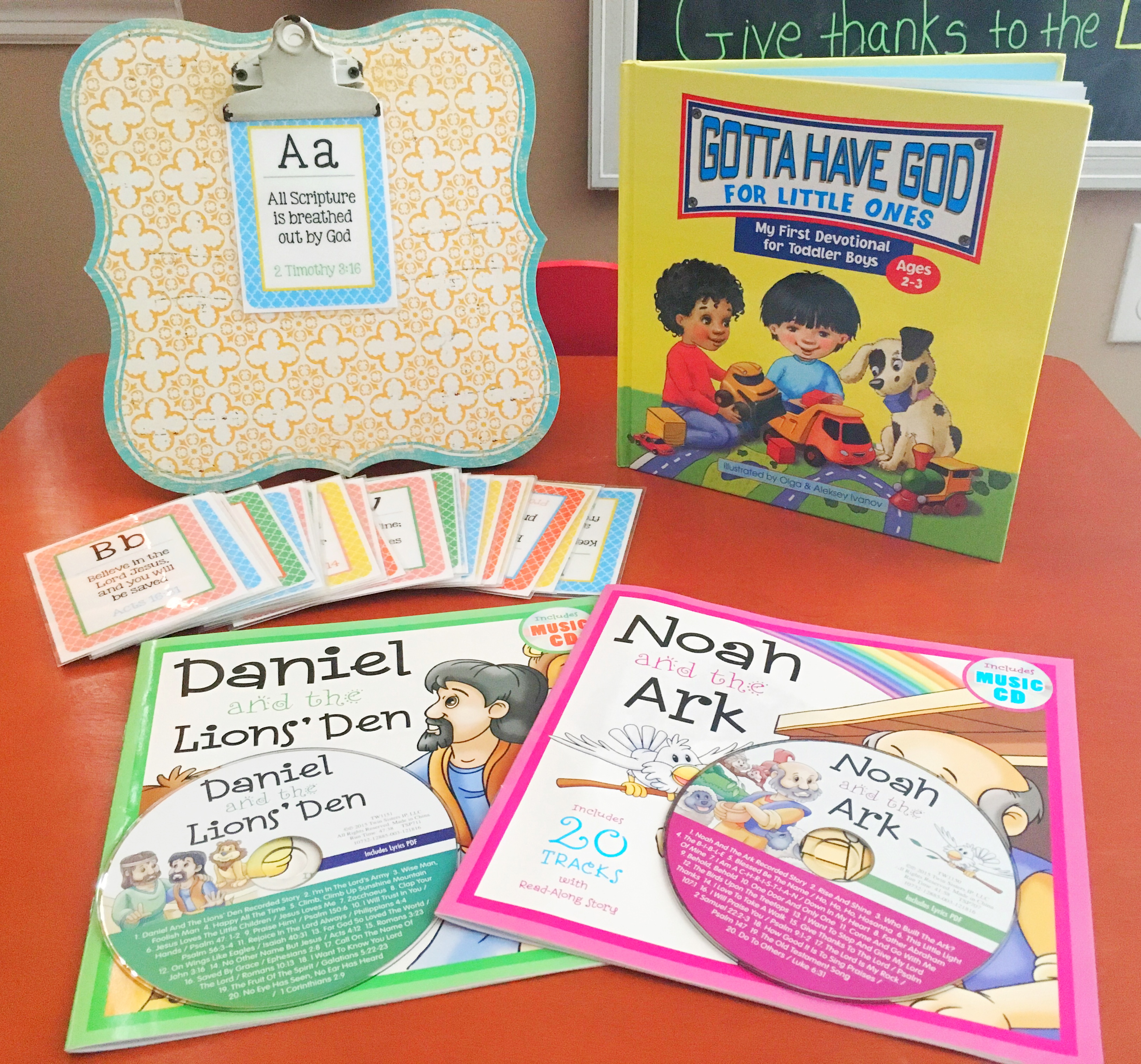 I created a 'Tool Kit' that has all the resources we need:
1. CD player and two cd's.
We received these two books for Timmy's birthday from Dollar Tree! The cd's are included in the books. They have all the classic children's church songs. They are fun and easy to follow versions. I enjoy them too! I bought a few cd's like this for his Easter basket that were a total fail. These are great! And I found a set of four on Amazon for $2.50! Grab these here, you won't regret it.
2. ABC Scripture Memory Cards.
I really wanted these! This is the main content I am relying on to teach scripture. I looked through many versions of 'ABC scripture flash cards'. It was hard to find a set with scripture that wasn't too lengthy or with words that aren't too big for a 3 year old. I was about to give up and make my own when I stumbled upon this set from Unoriginal Mom. Read the entire post because she also gives great advice on how to use the cards with your little one. I had them printed and laminated, love them!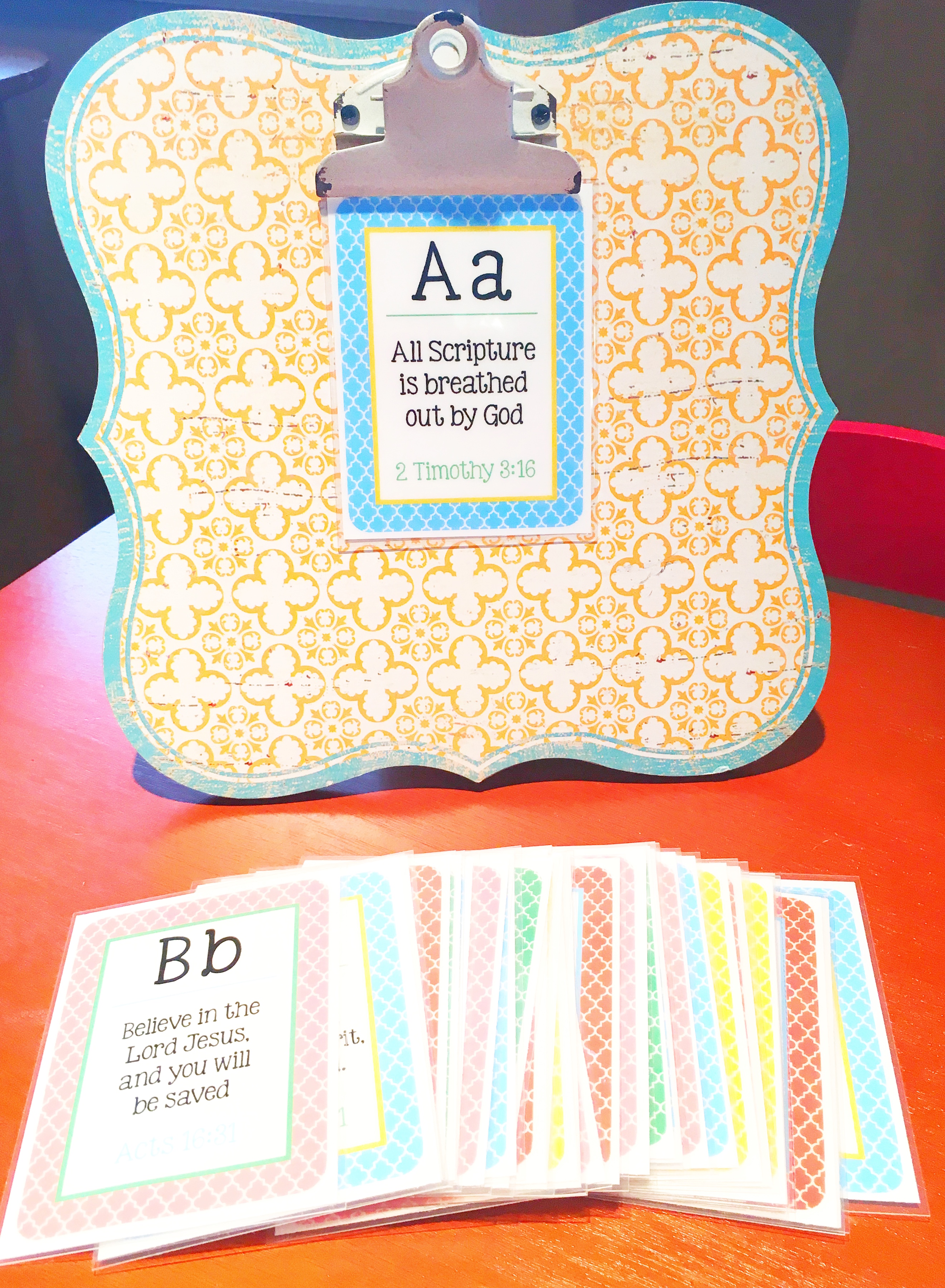 3. Chalkboard for writing and reading our memory verses.
I had plans of a DIY chalkboard wall and luckily I stumbled upon this chalkboard at Hobby Lobby on sale for $40. The tin pales are also from Hobby Lobby. The chalkboard is great for writing out scripture as we recite it. This is helping Timmy identify certain letters and words. I used different colors and sizes for the words so he can remember that yellow says, "LORD" and blue says "GOOD".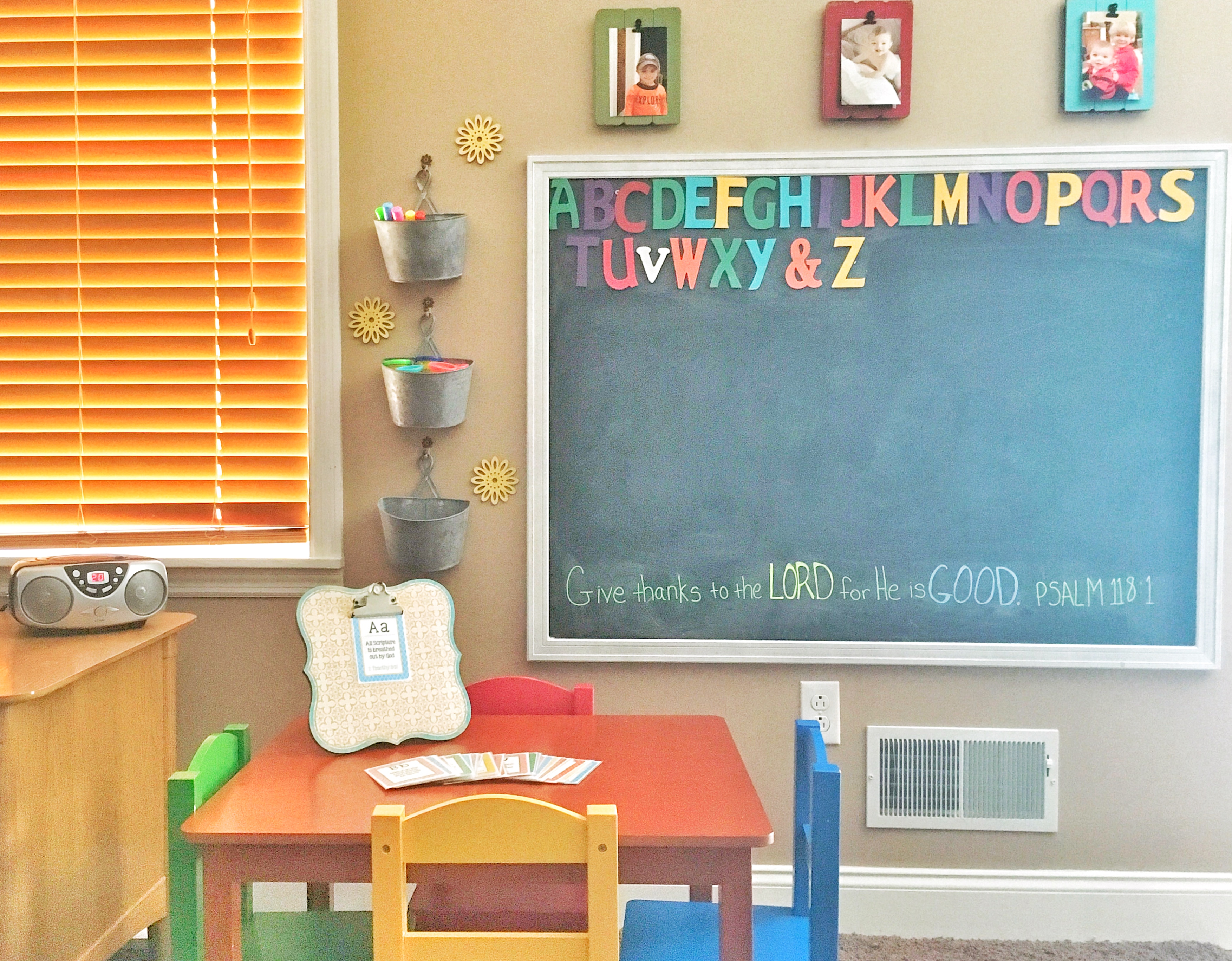 4. Age appropriate devotional!
We went through about 3 or 4 devotionals before finding this one. This one is perfect! It is short, holds his attention, and references life scenarios he can relate to. There is one for girls and one for boys! Get it here!
Teaching Timmy scripture is helping me memorize more scripture too! As a result, I don't get tired of going over the verses with him. What ideas or resources have you used to teach your little ones about God? I would love more ideas!